Flood-damaged Linton bridge reopening date set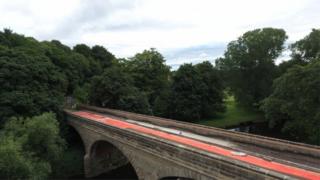 A road bridge closed since flooding in December 2015 is to reopen in September after repairs costing £5.1m.
Linton bridge, between Linton and Collingham, near Wetherby, West Yorkshire, shut on 27 December 2015 as the flooded River Wharfe made it unsafe.
The Grade II-listed structure suffered major damage to its foundations
Leeds City Council said the repair bill had been funded by the Department for Transport.
Read more about this and other stories from across Yorkshire
The structure over the River Wharfe, which links the communities of Linton and Collingham, will reopen to all users on 2 September.
More than 100 bridges were damaged by floods in West Yorkshire following Storm Eva