Joe Robinson: Ex-soldier charged with terrorism offences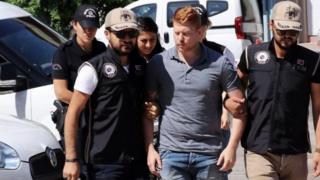 An ex-British army soldier from Leeds and his fiancée have been charged with terrorism offences in Turkey, the BBC understands.
Joe Robinson, 24, was with fiancée, Mira Rojkan, and her mother when they were arrested in Didim last month.
The women were released, but Mr Robinson remains in jail.
He is accused of joining the Kurdish militia group the YPG, which is fighting so-called Islamic State (IS) in Syria.
Live updates and more news from Yorkshire
Mr Robinson has been charged with being a member of a terrorist organisation.
Ms Rojkan has been charged with sharing terrorist propaganda, she told the BBC.
She is accused of having shared "Pro-Kurdish" material on social media.
This is said to have included the Iraqi Kurdistan flag, a YouTube video of a Kurdish song from Syria, and a picture of Kurdish fighters in Syria.
The Kurdish-led YPG is closely allied with the US special forces, which are helping them fight IS.
Turkey views the YPG as terrorist organisation. But it is not a proscribed group in the UK.
Analysis: Emma Vardy, BBC News
Mira Rojkan and Joe Robinson would not be considered a threat in the UK.
But this young couple from Leeds are being accused of terror offences by Turkey because of a wider international political battle being played out.
There is deep hostility between Kurds and the Turkish State, the Kurds have suffered persecution from Turkish authorities for generations.
Showing support for Kurdish fighters can get you into a lot of trouble in Turkey.
There has been a crackdown on pro-Kurdish support in Turkey since the collapse of the peace process in 2015.
The charge against Joe Robinson's fiancée for material shared on social media shows just how sensitive this has become.
Turkey has also detained other foreign nationals in similar circumstances. A French journalist is being held in connection to material for a news report he filed about Kurdish fighters.
Mr Robinson, who is originally from Lancashire and previously served with British forces in Afghanistan, was arrested after allegedly sharing material on social media from his time in Syria with the YPG in 2015.
His fiancée Ms Rojkan, originally from Bulgaria and a student at the University of Leeds, was held in detention for six days before she was released under judicial control. Her mother was also released.
Mr Robinson and Ms Rojkan are awaiting a date from Turkish authorities for a court appearance.
Ms Rojkan says she is not allowed to leave Turkey and is required to sign a register twice a week.
Mr Robinson has been transferred to a higher security prison, according to his lawyer.