Appeal over Bradford park football match killing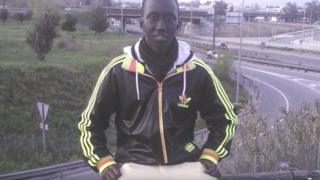 The family of a man who died after he was attacked while playing football with friends has issued a new appeal to find those responsible a year on.
Beyake Keita-Ann, 21, died in hospital three weeks after the assault in Attock Park, Bradford, on 23 August 2016.
He was taking part in the game during the early evening in the park when he was attacked.
His mother said: "No family should have to suffer the pain and anguish of losing a child like this."
Live updates and more stories from Yorkshire
Fatou Ann Danso, spoke about the impact her son's death has had on the family.
Her daughter Danlo Keita-Ann spoke her words through an interpreter.
"He never recovered from the terrible injures he suffered that night.
"Our family has never been the same since he was taken from us. It has been a very difficult year for all of us", she said.
Det Ch Insp Ian Scott of West Yorkshire Police, said more than 20 men had been arrested and questioned during the inquiry.
"We firmly believe the answers they are looking for lie within the local community. Beyake suffered horrific injuries and it is vital that we find out who did this," he said.
The force urged anyone with information to come forward and speak to officers or Crimestoppers.