Man drowns swimming in Horbury lagoon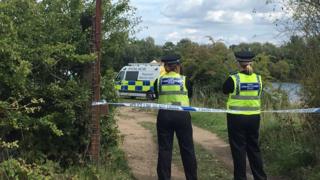 A man has drowned after going swimming at a lagoon in Wakefield.
Emergency services were called to Horbury lagoon at about 19:00 BST on Saturday after reports the 32-year-old Eastern European from Leeds had got into difficulty.
West Yorkshire Police said a body was located in the water and had been recovered.
Three teenagers have died in the water, know locally as the Blue Lagoon, since 1995.
Open water warning
The death has prompted a warning from the force about the dangers of swimming in open water.
Supt Marianne Huison said: "Such water can be very cold, even in the summer months, and people suddenly entering cold water are susceptible to hyperventilation.
"There can also be hidden currents and unseen dangers such as mud banks or items under the water which a swimmer can become caught on."