Bramham Iron Age skeletons to go on display in Leeds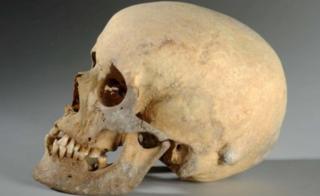 Two Iron Age skeletons uncovered beside the A1 near Leeds are to go on display in the city for the first time.
The 2,000-year-old bones lay side by side under land near Bramham, said Leeds City Museum.
Once the location of a late Iron Age settlement, Wattle Syke was the resting place of a man, aged about 25 to 35, and a woman over 45.
They were found buried together in archaeological excavations during 2007 and 2008.
Live updates and more stories from Yorkshire
Both were drawn up into the foetal position and placed alongside each other having died in about the first century AD.
Kat Baxter, Leeds Museums and Galleries curator of archaeology, said: "The truth is we'll never know exactly why these two were buried together: perhaps they had a special relationship or they were related?
"That's one of the things that makes these skeletons so fascinating, they were once people living where we are today... and they're all a direct and very real connection to our past."
Iron Age
The period known as the Iron Age began in about 800 BC until the Roman invasion of 43 AD
It saw the gradual introduction of iron-working technology, although adoption of iron artefacts did not become widespread until after 500-400 BC
The people of the period were farmers, growing wheat, barley and beans along with animals such as cattle, sheep and pigs
The best known and most visible remains of the Iron Age are hill forts.
Source BBC History
In all, a dozen skeletons are to be displayed. The other Yorkshire remains include a soldier discovered in a mass grave near the site of the Battle of Towton in 1461 during the Wars of the Roses.
Also part of the exhibition are the remains of a medieval female religious hermit from the Church of All Saints in Fishergate, York.
All are to be displayed at the Skeletons: Our Buried Bones exhibition at Leeds City Museum from 22 September until January 2018.