Bradford Muslims receive acid attack threat letters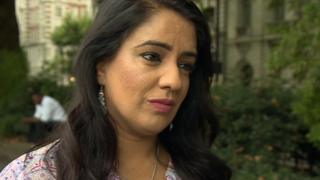 Police in Bradford have started a hate crime investigation after anonymous letters threatening acid attacks were sent to Muslims.
The letter, headed with an England flag and sword, says: "Kill Scum Muslims. Why do Muslim woman [sic] wear burkas?"
West Yorkshire Police said it was investigating reports of offensive literature around the Hanover Square area.
The force said the "despicable crime" was being taken extremely seriously.
Naz Shah, Labour MP for Bradford West, contacted police after a constituent alerted her to the letters.
She said while serious, it appeared to be a "very isolated" incident.
Hanover Square is a largely Muslim part of Bradford near the city centre.
Police patrols have been increased in the area to reassure people.
The letter, sent with a second class stamp with a Lancashire postmark, says: "We are now going to do acid attacks on anyone who wears the funny black masks around your square & Bradford & other places."
West Yorkshire Police said: "A thorough investigation has been launched and officers are working with the local community and partners to identify and prosecute those responsible for this despicable crime.
"We understand the impact hate crime and hate incidents can have on our communities and on individuals, and crimes of this nature will not be tolerated."
Anyone with information should contact police on 101.
The English Defence League (EDL) has a march in Bradford planned for Saturday, coinciding with eid celebrations.
Reports of Islamophobic hate crimes have increased across the country since the terror attacks in London and Manchester.