William Loney: Rededication after WWII paratrooper identified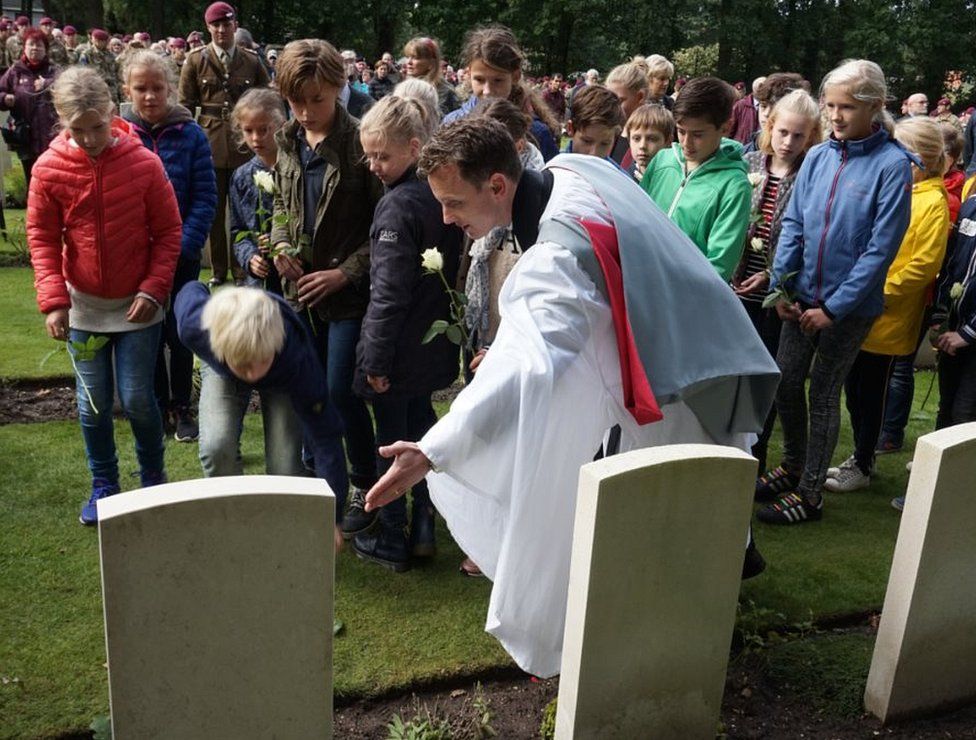 A service has been held to rededicate the grave of a World War Two British paratrooper, 73 years after his death.
L/Cpl William 'Ginger' Loney from Dewsbury, West Yorkshire, died aged 26 and lay in an unmarked grave until he was identified by military historians.
He served in North Africa, Sicily and Italy before he jumped into Arnhem, Netherlands, on 17 September 1944.
The paratrooper was killed the same day by machine gun fire as he entered the town during battle.
The service, held at Arnhem Oosterbeek War Cemetery in the Netherlands, was attended by members of the British and Dutch military and members of the public, with the Commonwealth War Graves Commission providing the new headstone.
Marcel Anker, a Dutch historian who has written a book on the Battle of Arnhem, found L/Cpl Loney died in heavy fighting on the doorstep of a house at 65 Utrechtseweg.
L/Cpl Loney, who fought with the Parachute Regiment, Army Air Corps, was identified as the grave's occupant in 2008 using records describing the remains of soldiers killed in action.
A report was sent to UK authorities, but the discovery was not confirmed until 2015 after research by the Ministry of Defence's Joint Casualty and Compassionate Centre.
Battle of Arnhem (operation Market Garden) 1944
Allied forces landed behind German lines but were defeated after nine days of fierce fighting
The aim was to inflict a decisive blow on the Germans and hasten the end of the war
More than 1,400 Allied troops died and more than 6,000 were captured
The battle was the inspiration for the 1977 film A Bridge Too Far
Rev Dr Brutus Green, regimental chaplain for 2nd Battalion the Parachute Regiment, said it was "an honour" to lead the service.
"Although his family weren't able to be here today, he was well represented by his regimental family," he said.
"It is incredibly important for the regiment to remember brave men like William and the sacrifices they made for us."
His previous grave was engraved "A Lance Corporal from the Parachute Regiment Army Air Corps... A Soldier of the 1939-1945 War".
The new gravestone includes his name, rank and age.