University of Leeds staff announce three-day strike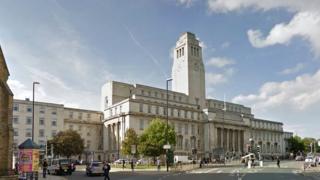 Staff at the University of Leeds have announced three consecutive days of strike action in a dispute over changes to the university's dismissal policy.
Members of the University and College Union (UCU) voted for strikes from the 11 to 13 October, the union said.
Vicky Blake, of UCU in Leeds, said the strikes were "a last resort" but the university needed to "urgently reconsider these damaging changes".
The university said it was "simply modernising the procedures".
A spokesperson said: "The university is not introducing any new grounds for dismissal, it is simply modernising the procedures it would follow, in the interests of openness and transparency.
"We are disappointed with the decision to take industrial action, which we genuinely believe is unnecessary.
"We will do everything we can to ensure that students are not adversely affected. Only a small proportion of our staff took part in an equivalent strike earlier this year."
The university said "checks and balances" had been included to stop abuse of procedures and protection of academic freedom was "made explicit in all relevant procedures".
The strike ballot follows a one-day strike at the Woodhouse Lane site over the same issue, in June.
The union said the decision to amend the university's employment statute would allow employees to be dismissed under a catch-all clause entitled "some other substantial reason".
It claims it would worsen employment protection. In a ballot, 67% of UCU members that voted backed strike action, it added.
The university has more than 33,000 students and about 7,800 staff, according to its website.