Man denies setting fatal Wakefield house fire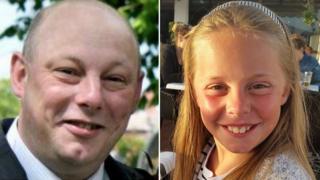 A man accused of killing a father and daughter in a house fire has denied being responsible for the blaze.
Daniel Jones, 29, is alleged to have set light to a house in Stanley, near Wakefield, in 2016 in a bid to destroy evidence of a burglary.
Andrew Broadhead, 42, and eight-year-old Kiera died in the fire.
Mr Jones, of Knottingley, told Leeds Crown Court it was a coincidence his van was parked nearby and that a man caught on CCTV in the area was not him.
More stories from across Yorkshire
Mr Jones, from Spawd Bone Lane, denies two counts of murder, alternative charges of manslaughter and burglary.
It is alleged he poured petrol through the letterbox of the house and set it alight in the early hours of 19 October.
The court heard he acted because he was worried CCTV footage from the house would reveal he had stolen a safe from a friend's home on the same road a few days earlier.
Mr Broadhead, his wife Sara and their daughters, Mia and Kiera, were asleep when the fire broke out.
Mrs Broadhead and Mia managed to escape but her husband and younger daughter were overcome by smoke and were pronounced dead at the scene.
'I just panicked'
The jury has heard a tracker on Mr Jones's van showed he had parked the vehicle on Aberford Road, a short walk from Ash Crescent, between 03:28 BST and 04:22 on 19 October.
However, he told police he had been asleep at his father's house in Knottingley.
When asked about his answers to the police in court, he agreed he had been lying.
Mr Jones told the jury: "I panicked with the interviews. I'd never been in that situation before, the night before I'd been out all night and not slept. I'm sorry, I made a mistake, I just panicked at the time."
Jamie Hill QC, defending, asked him: "Were you lying because you are guilty of any of those offences?"
Mr Jones answered: "No, not at all."
He told the court he did not steal the safe, containing £850 and 1oz (28g) of ketamine, from his friend's home.
The trial continues.