Dewsbury family's terror as police 'wrongly' raided home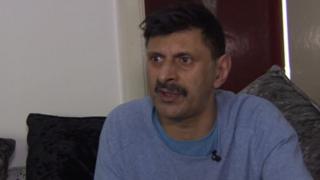 A family left terrified by an armed police raid on their home say officers told them they had got the wrong house.
Zaffar Iqbal's wife Nasreen was at home with their two teenage children on Thursday night when police arrived, shouting at her to open the door.
Mr Iqbal said after four hours of being in their Dewsbury home, they told him "sorry, we've got the wrong house".
West Yorkshire Police said it was acting on intelligence and apologised for any distress caused.
Mr Iqbal had been out with a friend at about 22:00 BST on Thursday when his wife telephoned him "screaming the police are here, they're pointing their guns at me".
He returned home and saw several police cars and armed officers outside his property.
"I got inside and my wife was absolutely shaking like a leaf and my daughter was totally in tears," he said.
Mr Iqbal said he was now considering taking legal action against, adding: "I'm not going to rest until I get these people brought to account."
In a statement, the force said it was carrying out a planned operation in the Ravensthorpe area in relation to drugs and firearms offences.
It said it was acting on intelligence there was a firearms present at Mr Iqbal's address but "it was quickly established" there was not and "further inquiries were conducted at a nearby address".
The force added four men had been arrested for possession of firearms and drugs offences as part of the operation.