'Outstanding' Wakefield arts college CAPA saved from closure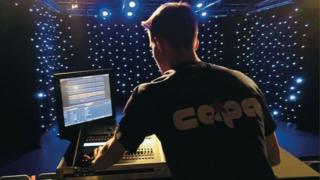 The future of a top performing arts college has been secured after the government confirmed it is to open as a free school.
Cathedral Academy for Performing Arts (CAPA) in Wakefield is regarded as one of the best places in northern England for arts training.
The college feared it would have to close because it had outgrown its site.
But the Department for Education (DfE) said it would fund the free school from next September.
More stories from across Yorkshire
Under guidelines, the DfE must be confident that a free school can secure temporary and permanent accommodation before it funds it.
CAPA will remain in its building in Cathedral Academy's performing arts facility on Thornes Road but will join Enhance Academy Trust and move to a purpose-built site "in the heart of Wakefield" after September 2018.
The exact location and date is to be announced in the next few weeks.
Formed in 2006, CAPA said it had a regional and national reputation as a centre of excellence with students from across Yorkshire, to the Lake District in the north and Nottingham in the south.
Claire Nicholson, principal designate, said the sixth-form college had an "exciting future" and was "highly delighted" that the DfE had decided to fund the free school from September.
She said it had not taken in a cohort of students in September 2017 because it was expecting to close.
Ms Nicholson said: "This exciting announcement will enable CAPA's outstanding legacy to develop and expand allowing even more talented, creative young people from across Yorkshire and the North of England to gain access to the highest quality of Arts training and education."
More than 100 full-time students will be able to attend CAPA College from September 2018.