Airedale Hospital services privatisation plans 'disastrous', say union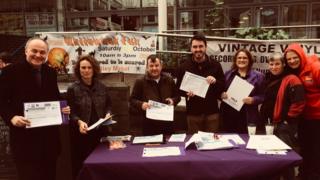 Proposals by an NHS trust to privatise some services at a hospital in West Yorkshire have been described as "disastrous" by a union.
Airedale NHS Foundation Trust said it was looking at setting up a private company to run facilities, estates and purchasing at its hospital in Keighley.
A union has started a petition, saying the move would "lead to lower wages and poor conditions for new staff".
The trust said it would "enable them to work together more efficiently".
Unison said it wants the trust to drop the plans because they would "drive service standards down".
It was petitioning at town centres in Keighley, Shipley and Ilkley on Saturday.
'Provide high quality care'
Michael Parkinson, Unison area organiser, said: "They know it will drive service standards down for patients as people are driven away from service by wages they cannot survive on.
"That is why we are launching this petition so people can be informed of the implications of the trust's planned privatisation.
"We will be able to demonstrate to the trust the widespread public concern about this and force them to re-consider."
He said the petition would be handed over during a meeting between the trust's board of directors on Wednesday.
In a statement, the trust said it had "consulted fully" with staff and unions and "held a series of open forum meetings for staff and their representatives to ask questions and feedback their views".
"Establishing a separate company to run these services would enable them to work together more efficiently, run their own budgets, make their own decisions and bid for other contracts, while at the same time keeping them in the Airedale family, supporting our clinical services to provide high quality care for our patients."