Bradford toddler death: Woman arrested on suspicion of murder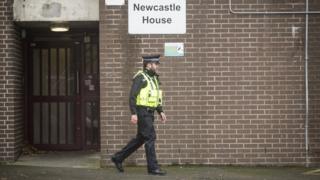 A woman has been arrested on suspicion of murdering an 18-month-old boy who fell from a sixth-floor flat window.
It "quickly became apparent" the boy had died when police were called to Newcastle House in Barkerend Road, Bradford, at 17:10 BST on Saturday.
A 23-year-old woman arrested on suspicion of murder is receiving medical assessment in custody.
One woman told how she, her husband and a friend tried to save the child, who was naked when he fell.
Danuta Tomaszewicz, 59, said she had been on her phone, looking out of the window from a first-floor flat when she suddenly noticed the child on the ground below.
She thought the child was a doll at first, she said.
Her niece, Monika Tomaszewicz, said: "She screamed for help and her husband and his friend ran downstairs.
"The friend took his shirt off because the baby was naked."
She said the ambulance arrived after about 20 minutes.
Mrs Tomaszewicz's niece added: "She could not sleep at all last night.
"She doesn't know how she is going to live here as every time she looks out of the window she will see the baby.
"They tried their best for the baby."
Andrew White, 53, said he lived on the same landing as the flat where the baby fell.
He said a couple with two young children live there.
Mr White, a father-of-three with four grandchildren, said: "They are a nice young couple who keep themselves to themselves which is normal here."
West Yorkshire Police said it was an "extremely traumatic incident".
Det Supt Nick Wallen said: "Specially trained officers are working to support the child's family members and those who witnessed what took place.
"It is no exaggeration to say those who witnessed this incident will have been deeply traumatised by what they saw."
Police said they were not looking for anyone else in connection with the death.
Newcastle House, which is in the city centre, is a seven-storey block of flats with shops on the ground floor.
An unnamed resident, who lives on the same landing where the boy had fallen from, said: "There's quite a high turnover of people in these flats, you wouldn't necessarily know your neighbours. I just keep to myself."
He said there were people of different nationalities living in the block.
The resident said he saw police activity in the flats on Saturday night but only discovered what happened the next morning by watching the news.
"It's horrible," he said.
"It's hard to take."