Famous farm in middle of M62 to become more sustainable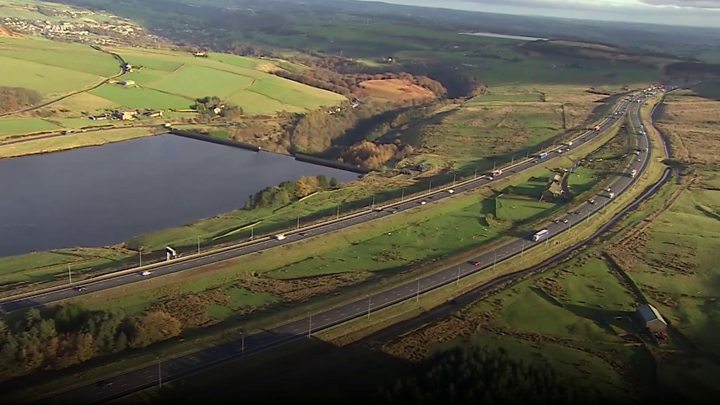 A farm made famous because of its location in the middle of a motorway is to be transformed to make it more sustainable.
Stott Hall farm made national headlines in the 1960s when the M62 was built and has been a focal point ever since.
It was thought the farm in Yorkshire would have to be demolished but a quirk in the land's geology saved it.
Yorkshire Water, which owns the farm, said it would restore peatland and improve the habitat for local birds.
The upland farm, which is more than 200 years old, is currently managed by Paul Thorp who has worked there since 1992 and lived on site since 2008.
More stories from around Yorkshire
---
Little House on the Prairie
Given the nickname Little House on the Prairie by a radio traffic reporter, the quirky farm wedged between the carriageways of the M62 is one of the best known sights on the motorway network.
Since the road opened in the 1970s, it has been subject to numerous urban myths about a stubborn farmer Ken Wild who refused to leave when the workmen moved in.
One theory was that Mr Wild was holding on for more compensation but lost out when planners decided to go around the property.
The truth however is less dramatic. A geological fault beneath the farmhouse meant it was more practical for engineers to leave it rather then demolish it.
---
As part of the Beyond Nature vision, the farm will not only continue to focus on its traditional work looking after 900 breeding ewes on nearby Moss Moor, but also widen its scope to become more sustainable, Yorkshire Water said.
This will mean restoring peatland bog which helps lock carbon dioxide in to the land and reduces the risks of global warming.
Yorkshire Water said improvements to the habitat would enhance the population of key species of bird, including merlin and snipe.
There are also plans to open up a scientific and educational hub at the farm to enable agriculture students to carry out environmental studies.