Burning bins used to barricade Leeds streets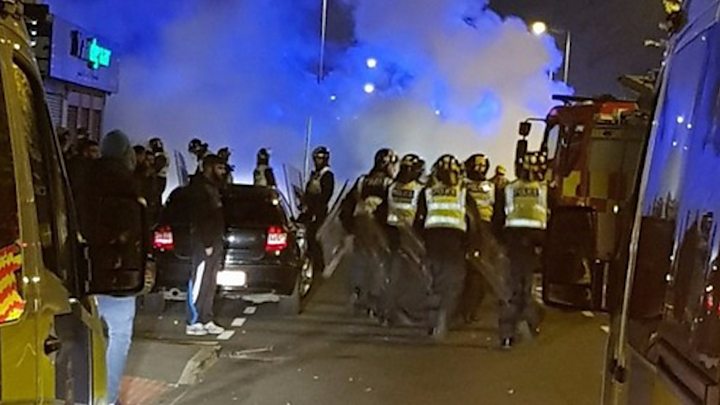 Youths barricaded two streets with rows of burning wheelie bins before throwing fireworks at police, officers said.
Riot police and fire crews were called to Harehills Road, Harehills, Leeds, just after 21:00 GMT on Sunday.
Similar trouble was reported on Queens Road in Hyde Park less than an hour later.
No-one was injured in the disturbances, but two police vehicles were damaged in Harehills and residents said vehicles had minor damage.
More stories from around Yorkshire
One woman who lives on Queens Road, who asked not to be named, said fireworks were hitting houses, parked cars and moving vehicles - including a police van.
"They were being set off by about 30 teenagers and school kids - one boy looked about 10 years old," she said.
"I wanted to leave the house and move my car, but obviously didn't want to get hit by a firework or have an altercation with any of the youths who were outside my front door."
She said she called police and when they arrived they were "fantastic".
"At that point though I could see some of the boys who'd been causing the trouble just standing, laughing and watching the police," she said.
Det Supt Lisa Atkinson from West Yorkshire Police said: "Both incidents were dealt with quickly and the groups dispersed, but we don't underestimate the impact this behaviour will have had on people living in those areas."
West Yorkshire Fire and Rescue Service said it received 1,147 calls in the 24 hours over Bonfire Night and attended 322 incidents.