Wakefield Trinity 'to take stadium row to court'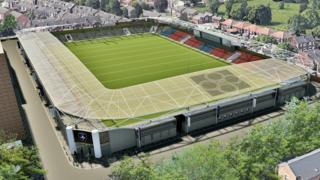 A rugby league club has said it will take a local council to court to end a row over stadium development plans.
Wakefield Trinity want Wakefield Council to continue with plans to build a stadium near Rothwell, as announced in 2010, rather than redevelop the club's existing Belle Vue ground.
It says the Belle Vue plan is "uneconomical" and it is "preparing our case for presentation to the court".
Wakefield Council said it was "saddened by the threat of legal action".
More stories from across Yorkshire
Plans for a 12,000-capacity stadium at Newmarket Lane near junction 30 of the M62 were first put forward in 2010 and approved in 2012 but work has never started on the ground
In September, Wakefield Council announced plans to redevelop Belle Vue into a 10,000-seat community stadium, but the following month said discussions with the club had stalled.
The owners of Wakefield Trinity - Chris Brereton and Michael Carter - say the deal being offered to keep the club at Belle Vue is "unacceptable".
The club faces leaving Belle Vue as it does not meet minimum ground standards for the top flight.
In a statement issued by the Super League side they said: "The reason we are in the present predicament with no security of tenure for the future of Wakefield Trinity and its new Super League stadium is entirely the fault of Wakefield Council.
"We have waited since June 2012 for the council to deliver Newmarket Stadium. We are no nearer today than we were then."
Wakefield Trinity have played at Belle Vue since 1895.
Deputy council leader Denise Jeffery rejected the club's claims and said: "Legal action will be a very costly and lengthy course of action for all parties involved and ultimately the people who will lose the most is the fans and residents, and that is the most upsetting part of this situation."