Two guilty of bribing Beeston manslaughter jury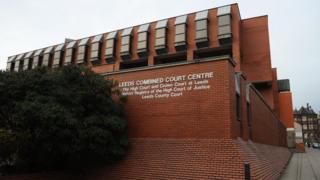 Two men have been found guilty of attempting to bribe a jury in a manslaughter trial.
Shahrear Islam-Miah and Abdilahi Ahmed, both 27, offered jurors £500 to fix their verdicts in the trial of four men accused of killing 88-year-old Betty Laird in a cash-for-crash scam.
They were found guilty of conspiracy to pervert the course of justice after a trial at Leeds Crown Court.
A third man, Haroon Sharif, 21, from Altrincham, was found not guilty.
Islam-Miah, of no fixed abode, and Ahmed, of Lincoln Towers, Leeds, are due to be sentenced on Friday alongside five other men.
More stories from across Yorkshire
The following pleaded guilty to perverting the course of justice ahead of the trial:
Raja Hussain, 31, of no fixed address
Jonaade Hussain, 27, of Ring Road, Leeds
Zafarullah Ahmad, 21, of Hamilton Avenue, Leeds
Waqas Ahmad, 26, of Hamilton Avenue, Leeds
Jamie Lawson, 28, of Bayswater Grove, Leeds
The court heard members of the jury were identified as they gathered outside Leeds Crown Court after Ahmad deliberately set off the fire alarm.
The gang then approached five of the jurors, offering each money to return a not guilty verdict in the manslaughter trial.
However, the jurors reported the approaches to the judge who then dismissed the jury and returned verdicts in the case himself.
Julian Briggs, from the Crown Prosecution Service, said: "This was a cynical and blatant attempt to pervert the course of justice, which was foiled by the commendably swift action of the jurors who had been targeted.
"Attempts to undermine the true course of justice will be dealt with severely."
Mrs Laird died in hospital after the car she was a passenger in was hit on Old Lane in Beeston in September 2014.