West Yorkshire ex-chief constable loses High Court case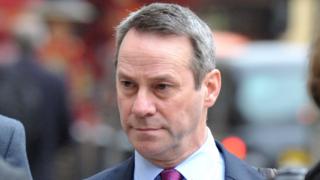 The former chief constable of West Yorkshire has lost a High Court fight with the region's police and crime commissioner (PCC).
Mark Gilmore said Mark Burns-Williamson had unfairly failed to complete disciplinary proceedings into gross misconduct claims brought against him.
He asked the court to order the PCC to "make a case-to-answer decision".
However, Mr Justice Supperstone said Mr Burns-Williamson was "under no obligation" to make determination.
More stories from across Yorkshire
Mr Gilmore said he was disappointed with the ruling but accepted the decision of the court.
Mr Burns-Williamson said he welcomed the judge's conclusion and hoped now to "re-focus my efforts on supporting our dedicated police officers and staff working to help keep West Yorkshire safe and feeling safe".
Mr Gilmore was appointed chief constable in 2013 but was suspended 14 months later in connection with an investigation into the awarding of vehicle contracts in Northern Ireland.
Investigators concluded in April 2015 there was insufficient evidence against Mr Gilmore to proceed and his suspension was lifted.
However, Mr Burns-Williamson took the view that there was a case to answer for gross misconduct.
He also launched an investigation into allegations of misconduct made against Mr Gilmore.
Mr Gilmore retired from the police service in August 2016.
Lawyers for Mr Gilmore had argued that by not completing proceedings relating to the two matters Mr Burns-Williamson had failed to comply with his statutory duty.
Jeremy Johnson QC said that all his client wanted was a decision on the investigation.
John Beggs QC, who represented Mr Burns-Williamson, said: "But for [his] decision to retire he would have received the decision."