Sinead Wooding death: Husband 'texted wife after killing her'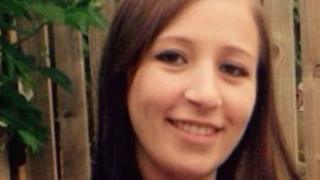 A husband accused of murdering his wife tried to fool police by sending a text to her phone after she was already dead, a court has heard.
Akshar Ali, 27, of Scott Hall Road in Leeds, sent the message to prove that he was worried for Sinead Wooding's welfare, Leeds Crown Court heard.
A jury were told the text read: "The kids miss you and so do I."
Mr Ali and his friend Yasmin Ahmed, 27, of Reginald Mount, Potternewton, deny murdering 26-year-old Miss Wooding.
The pair are accused of killing mother-of-four Miss Wooding at Ms Ahmed's home in Leeds.
Her body was kept in a cellar for two days before being transported to woodland near a lane in Alwoodley, north Leeds, where it was set on fire, the jury heard.
A pathologist's examination showed Miss Wooding had been attacked with a hammer and stabbed six times.
'Entirely manufactured'
Prosecutor Nicholas Campbell QC said the body had been wrapped in a duvet and trussed up with wire before being doused with petrol.
She told the jury the smouldering remains were discovered on Stairfoot Lane at about 09:00 BST on Sunday 14 May by students on a run.
The court heard that Mr Ali's concern for his wife was "entirely manufactured".
Mr Campbell QC said a flurry of texts and calls during the Sunday morning to Miss Wooding and her family was a ruse.
"The hope had to have been that it [the body] had been destroyed beyond recognition," he said.
"Both murderers felt that it was safe to raise the alarm.
"It would have been more suspicious if they had failed to alert anyone to Sinead's disappearance."
Mr Ali's mother Aktahr Bi, 45, denies assisting an offender by making arrangements to dispose of Miss Wooding's corpse.
His brother Asim Ali, 21, also denies assisting an offender by procuring a vehicle and assisting in the disposal and burning of her body.
A fifth defendant Vicky Briggs, 25, denies assisting an offender by helping clean up and burn material after the murder.
The trial continues.