Leeds car crash: Five victims named locally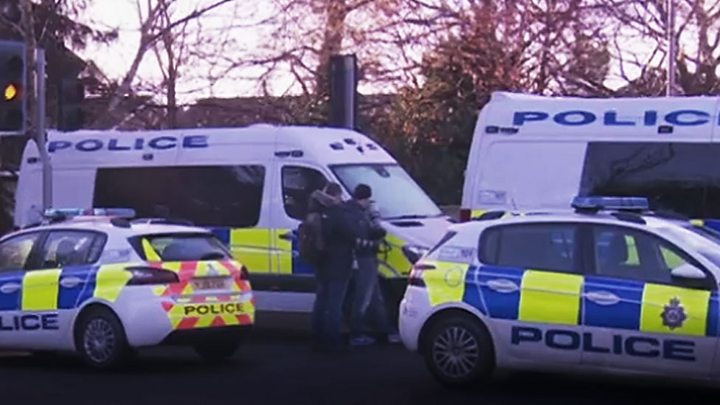 The five victims of a crash that saw a stolen car smash into a tree in a Leeds suburb have been named locally.
Brothers Ellis and Elliott Thornton, aged 12 and 15, died along with 15-year-old Darnell Harte and 24-year-old Robbie Meerun.
Father-of-two Anthoney Armour, 28, whose partner is pregnant with a third child, also died.
Police were called to Stonegate Road in the Meanwood area of the city at 21:54 GMT on Saturday.
More on this story and others in West Yorkshire
Two 15-year-old boys are being held in custody on suspicion of causing death by dangerous driving.
A vigil was held opposite the crash scene late on Sunday night and floral tributes are being left.
One message read: "Elliot and Ellis. Two beautiful boys taken too soon. We will never forget you both and love you both forever and always sleep tight boys."
Julie, a former neighbour of the brothers, told BBC Radio Leeds: "It's devastating, they were funny, cheeky lads, always a smile on their faces."
Some of those involved in the crash are understood to have gone to the nearby Carr Manor Community School.
In a message posted on its website, the school said: "We are aware of the tragic road accident in our local community and send our condolences and sympathies to the families and all those affected by this shocking and upsetting incident.
"Until the police confirm relevant details we are unable to comment further and we will continue to offer support and help to all our pupils who may be affected by this distressing event."
A police spokesman said officers were confronted by a scene of "complete carnage" when they arrived.
Two victims were pronounced dead at the scene and three died a short time later at hospital, West Yorkshire Police added.
Their families have been informed.
Louise Thornton, 34, described as Ellis and Elliot's "godmother/aunty Lou", told the Yorkshire Evening Post the family was "devastated".
She said: "We were so proud of the boys. They will be hugely missed by the family. It will leave a huge devastating void.
"They were very well-loved. We just can't describe how much these little boys have left a big void in our family."
Det Ch Insp Jim Griffiths said: "This is clearly a tragic incident in which five young people have lost their lives."
Earlier, police said they were working on the assumption all seven were in the same vehicle - a Renault Clio.
However, the force has since said: "Whether they were all in the car or whether some of [the victims] were pedestrians we can't say at this point in time."
Stonegate Road is about three miles north of Leeds city centre and has semi-detached houses and wide grass verges between the houses and the road.
Investigators were back at the scene on Monday morning, with anyone with information asked to contact West Yorkshire Police.
Councillor Judith Blake, leader of Leeds City Council, said: "This is a truly terrible tragedy, and our thoughts and deepest condolences are with the families and friends of those that have lost loved ones."