Leeds clean air zone: High emission tax plan for city roads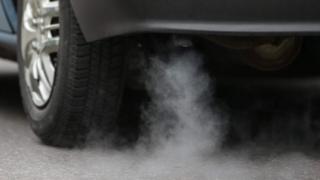 High-emission lorries, buses, taxis and private hire vehicles could be charged up to £100 a day to enter Leeds city centre, according to new plans.
The idea, part of a planned "clean air zone", would affect older vehicles travelling within the Outer Ring Road.
No charges are currently planned for private vehicles.
The council plan, which requires government approval, would hit vehicles failing to meet engine standards and could start as early as October 2018.
Zaber Abbas, who has been a taxi driver in Leeds for 15 years, said: "If we have to pay it, I think everybody should pay it.
"In terms of effect, I don't think I would be able to do this job any more."
---
Proposed daily charge for non-compliant vehicles
Buses/Coaches - £100
HGVs - £100
Taxi and private hire - £12.50
Charges subject to consultation
---
Proposals were announced in October 2016 for clean air zones for Leeds, Birmingham, Nottingham, Derby and Southampton by 2020.
The five cities were chosen because of their high levels of nitrogen dioxide, often caused by diesel fumes.
The move was a government response to a UK Supreme Court ruling ordering it to take action to meet European limits on air pollution.
Leeds City Council said it was required to find a solution to "deliver improvements to air quality in Leeds and to ensure that the city is compliant with national and international air quality targets".
It will submit its proposal to the government early next year.
Lucinda Yeadon, deputy leader of Leeds City Council, said: "This is a public health issue, but we don't want to put any added pressure on to those small businesses or individuals.
"We want to work with them to recognise what the issues are and how we overcome them."
She added that there would be a consultation in the new year to hear people's thoughts on the issue.
The authority said Leeds has 500 taxis and more than 4,000 private hire vehicles, with 86% diesel, 6% petrol and the remainder electric hybrid and gas/bio-fuel.
It would be looking to gain funding from the government's £220m Clean Air Fund and may be able to offer loans or grants to help businesses upgrade their vehicles.
A government spokesperson said: "Local leaders are best placed to develop innovative plans that rapidly meet the needs of their communities and we welcome the progress Leeds has made so far."