Terror accused 'bought ball bearings for hunting'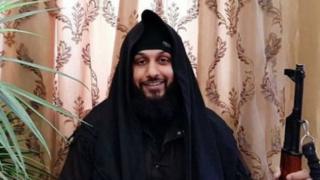 A dental student accused of plotting to commit an act of terrorism in the UK told police he bought 500 ball bearings and a catapult to use for hunting.
Mohammed Awan, whose brother Rizwan Awan killed dozens of people in a bomb blast in Iraq in 2016, was arrested after buying the items online.
Sheffield Crown Court heard he told police he was a keen fisherman and was researching hunting with a catapult.
Mr Awan, 24, from Huddersfield, denies three terrorism-related charges.
More stories from across Yorkshire
Jurors have been told Mr Awan was arrested in June after the ball bearings were delivered to his family's home in Rudding Street, Huddersfield.
Anti-terror police also recovered material following a raid at his flat in Sheffield, including a publication which contained information on using ball bearings as shrapnel and how to make bombs.
When asked by police if he was aware ball bearings could be used to make improvised explosive devices he replied 'No comment'.
The court has heard Rizwan Awan travelled from Manchester to Istanbul on 17 May 2015 and appeared to have joined the so called Islamic State group.
Asked about his relationship with his brother, Mr Awan said: "We were close. He was my older brother. I looked up to him."
He went on to say he was "shocked" when he learnt his brother had travelled to Syria
Mohammed Awan denies preparing an act of terrorism and two charges of possessing terrorist-related documents.
The trial continues.