Judith Garnett shooting: Aaron Wilkinson 'should stay in prison'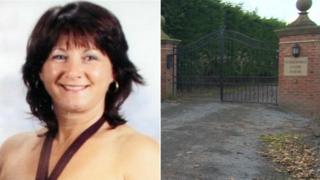 A former soldier who is up for parole after serving five years for killing his landlady should "stay where he is", her family said.
Aaron Wilkinson, then 24, shot Judith Garnett, 52, three times at her home in Woodlesford, Leeds, in January 2011.
His trial heard he was suffering from post-traumatic stress disorder after a military tour. In 2012, he was told to serve at least five years in prison.
At a parole board hearing, the victim's sister called the sentence "unfair".
Wilkinson, who also has Asperger's syndrome, admitted manslaughter on the grounds of diminished responsibility and was cleared of murder.
At the hearing, which took place at Lindholme Prison, Doncaster, a victim impact statement was read out by her family.
Pat Morton, her sister, said: "We don't know how stable he is, so he could just fly off the handle at any time.
"It has broken us apart, you don't expect your sister to be no longer with you at such a young age."
Wilkinson joined the Territorial Army at 19 and served in Afghanistan in 2009. After his return, he was diagnosed with post-traumatic stress disorder.
At his trial, he told the court he had felt like he was in a "trance" at the time of the shooting and could not explain it.
Mrs Morton added: "It's unfair that he was only originally given five years, people get longer sentences for robbery.
"He should stay where he is, you don't want it to happen to another family like it happened for us."
A spokesperson for the Parole Board for England and Wales said: "Despite our best efforts, the parole review has experienced significant delays.
"This is a sensitive and complex case and it would be wrong for the board to make a decision if it does not have all the information it needs to assess whether a person continues to represent a risk to the public."