Slander damages award over church threat to kill lie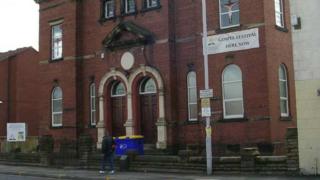 A businessman falsely accused of threatening to slit a church-goer's throat has won £35,000 in damages.
Raj Dhir, 75, brought a slander claim against Bronte Saddler after she made the accusation in front of a church congregation in Leeds.
Anger flared because Mrs Saddler's married son, Andrew, was in an on-off relationship with Mr Dhir's daughter.
A judge ruled Mr Dhir had suffered "serious reputational harm" for which he was entitled to be compensated.
The High Court hearing in London was told the conflict between the two families was centred on the relationship involving Mr Dhir's daughter Reena.
Mr Dhir and his family deeply disapproved and the falling out caused a crisis at the Seventh Day Adventist Church in Meanwood Road.
'Tremendously traumatic'
The court was told that in July 2015, 90 members of the church gathered to hear the Dhir family's complaint about the Saddlers.
It was in front of that meeting that Mrs Saddler, aged in her 70s, said Mr Dhir had "threatened to slit my throat".
In his ruling, Mr Justice Nicklin, said he had come to the conclusion that Mr Dhir did not make the threat to kill.
The judge added it must have been acutely embarrassing and upsetting to Mr Dhir to witness the attack on his reputation.
In evidence, Mr Dhir, owner of Harewood International Products LLP in Leeds, said it had been "tremendously traumatic for me personally since my intention in contacting her was always resolution and she has used this to attack me".
The judge said damages must be sufficient to satisfy any bystander that there was nothing in the allegation and that the "appropriate and proportionate" award was £35,000.