Man guilty of Bradford panto sex assault attempt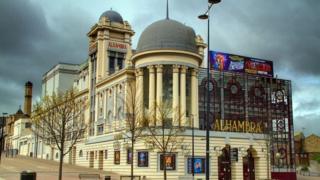 A convicted sex offender has been found guilty of attempting to sexually assault an 11-year-old girl at a pantomime.
Malcolm Naylor, 70, from Bradford, sat next to the girl during Peter Pan at Bradford Alhambra Theatre on 24 January, the city's crown court heard.
He escaped through an emergency exit when the girl alerted a relative and an usher, jurors were told.
A judge adjourned sentencing for a risk assessment of the danger Naylor poses.
Stephen Wood, prosecuting, said Naylor, an Oxford University chemistry graduate, had gone to the pantomime alone.
Deeply worrying
Jurors heard he had previous convictions for indecently assaulting a 15-year-old girl and another female after drugging them.
Recorder Simon Batiste said the offence had been brazen and Naylor's evidence that he had "no control" over what he was doing was deeply worrying.
He said his use of drugs in his previous offending was a "dangerous trait" for someone who was trained as a chemist.
Naylor, of Rushton Road, Bradford, had denied the charge. He will be sentenced on 26 January.