Police helicopter recorded M606 fatal crash says IPCC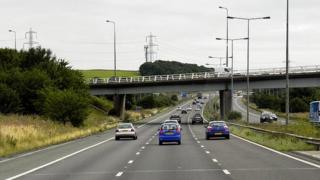 A police helicopter was filming as a police chase ended with a crash in which a man died, a watchdog has said.
A silver Audi A4 failed to stop for police in Heaton, near Bradford, on Monday morning and later hit a barrier eight miles away on the M606 motorway.
A 34-year-old Bradford man died at the scene, said the Independent Police Complaints Commission (IPCC).
It had "a substantial amount of evidence" including the helicopter footage but has appealed for witnesses.
IPCC investigators went to the crash scene and took initial accounts from the officers involved, it said.
The police helicopter was at the scene and recorded the car hitting the barrier.
It also has the police officers' body-worn camera footage, in-car footage from the police vehicles and CCTV.
A witness, travelling along the motorway at the same time, has provided a statement, it said.