Remains of flat destroyed in explosion demolished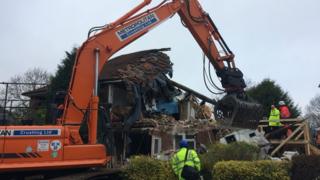 The remains of a flat destroyed in an explosion in Leeds are being demolished.
The blast on Friday happened at a semi-detached property in Silk Mill Drive, Tinshill, which had been divided into two one-bedroom flats.
Two men were injured and are being treated in hospital for injuries which are not thought to be life-threatening.
West Yorkshire Police said inquiries were continuing and that the cause of the explosion was not yet known.
Gas engineer Allen Hart, 43, described the aftermath of the explosion as looking like a "war zone".
Mr Hart, who was working further up the street fitting a boiler at the time, said: "It was so shocking, it was horrendous to see - the tiles from the roof had blown up in the air and had come down and stuck into the grass.
"All the roof was in the road, when the fire brigade came they had to drive over it.