Former Leeds rugby league star John Atkinson dies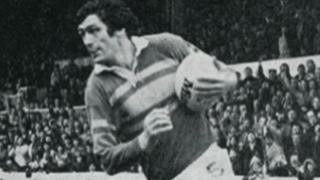 Former rugby league star John Atkinson has died at the age of 71.
Atkinson played more than 500 times for Leeds Rhinos and clocked up dozens of games for Great Britain during the 1960s and 70s.
The former winger developed Alzheimer's five years ago and was being cared for by his wife Carol Butterfield.
Paying tribute, Leeds Rhinos chief executive Gary Hetherington said: "He was one of those special players, a match winner."
Atkinson began his playing career with Leeds in 1966 after signing from Roundhay Rugby Union club.
He amassed a total of 401 tries during his career, of which 340 were scored for Leeds, making him the second highest try scorer in the club's history.
His international career from 1968 to 1980 saw him play in four world cups.
In a tribute on the club's website, Leeds Rhinos described him as a "majestic and flamboyant finisher" who "thrilled and entertained crowds in both hemispheres with his dash and bravado down the left flank".
The club said he specialised in the "spectacular, often long-distance tries" and that everyone who had seen him play would have their own "treasured memory of an 'Atky' special".
Earlier this year, his wife had spoken about the struggle of coping with her husband's dementia as a result of having Alzheimer's.
Speaking to the BBC about his condition, she said: "He's still very sweet and very gentle and there are parts of John that I recognise, but the saddest thing mostly is that John disappeared some time ago."
Leeds Rhinos players will wear black arm bands for their Boxing Day match at Wakefield and will hold a minute's silence.