Snake found on back seat of Shipley bus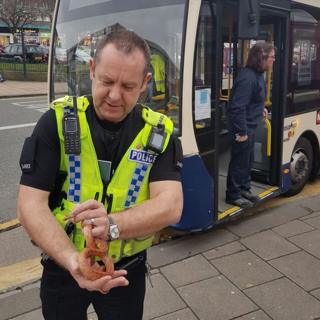 A snake had to be removed from a bus by police officers after it was spotted on the back seat of the vehicle.
The TLC Travel-operated bus was in the centre of Shipley, near Bradford, at around 11:45 GMT on Saturday when the snake was found.
West Yorkshire Police described it as the most "unusual" call of the day.
The force said the harmless corn snake, around 2ft (0.6m) in length, was safely removed and the bus was allowed to resume its normal route.
Officers said they had no idea how the snake came to be on the bus.
Bus driver Joanne Searle, 47, told the Telegraph & Argus she remained "pretty calm".
"You see a lot of things as a bus driver and you just think 'whatever'. The bus was full, everyone had just got on and I just heard someone say 'I think there's a snake on your bus'."