Yorkshire in international football debut against Isle of Man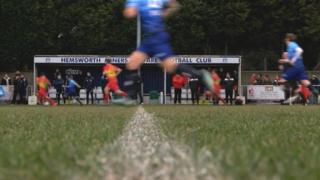 A new pub quiz question has been created after the Yorkshire football team made its international debut on Sunday and scored its first goal.
Jordan Coduri, a 25-year-old midfielder with non-league Penistone Church, was the scorer of the county's first goal against the Isle of Man.
More than 600 spectators watched at Hemsworth Miners' Welfare FC as the game ended in a 1-1 draw.
The unpaid white rose players are all drawn from non-league teams.
The Yorkshire International Football Association was founded in July and the team is now recognised by CONIFA, the federation for sides from "nations, de-facto nations, regions, minority peoples and sports-isolated territories".
Coduri said: "When the opportunity to play for Yorkshire came up I jumped at the chance.
"The lads had all been talking about who might get that first goal and nothing has made me prouder than to take that opportunity."
On the Spot: David Harrison, BBC Look North
Supporters from around the country came to watch the county's new national side - with flags and banners hung up around the ground.
An enthusiastic crowd was filling the West Yorkshire sky with blue smoke bombs at intervals through the match, along with chants of "Yorkshire, Yorkshire, Yorkshire".
Isle of Man (Ellan Vannin in Manx) took the lead just after half-time through Furo Davies, only for Jordan Coduri to equalise mid-way through the second half, sparking chaotic scenes as fans ran on the pitch in celebration.
It finished 1-1, a fantastic advert for CONIFA football.
It was an impressive foray into international football. The Yorkshire team only held its trials two weeks ago but played well under the guidance of Bradford City academy coach Ryan Farrell.
One hitch came when the team's anthem of Ilkley Moor Bah't Tat was not played because the expected brass band was double-booked.
Pie and peas were bought from the clubhouse as raffle prizes were hawked by enthusiastic club officials around the touchlines.
Collectors clamoured for the historic match programme, of which only 200 were printed.
In it, Yorkshire chairman Phil Hegarty wrote: "I always knew we'd reach the destination - Yorkshire has a powerful brand - but just never dreamed it would happen so soon."
Yorkshire will host a six-team tournament in May, including the likes of Tibet and the Chagos Islands, and Mr Hegarty is already looking at expanding the playing squad.
"We are going to keep playing games and get ourselves high enough up the CONIFA rankings to hopefully get us into the European Championships next year, and the World Cup the year after that," he added.