David Ellam death: Dog returned by police before fatal attack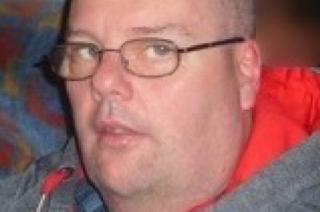 A dog attacked and killed a man a week after it had been returned to its owner by police, a court has heard.
David Ellam, 52, died after being attacked by the mongrel bull terrier in Huddersfield, West Yorkshire, in August 2016.
Aaron Joseph, 30, denies one charge of owning a dog dangerously out of control causing injury resulting in death.
Leeds Crown Court heard the dog, called Alex, was returned because it was not classed as a dangerous breed.
More on this and other stories from Yorkshire
Prosecutor Richard Walters said Mr Ellam had raised concerns the dog might be a banned pit bull terrier, two months before his death.
Police seized the dog but returned it to Mr Joseph, who lived in the flat above Mr Ellam on Riddings Road, on 8 August.
A dog warden visited Mr Joseph five days before the attack and gave him 21 days to comply with the conditions of a dog control order granted in 2012.
On 15 August, the dog escaped from its kennel and attacked Mr Ellam as he left his flat with his own dog Rollo.
The jury were told neighbours heard Mr Ellam shouting: "Help me, please somebody help me."
Mr Walters said: "Mr Ellam was by his door and Alex was seen to have hold of him by the arm. She was panting and scraping her paws on the ground.
"Alex at some stage then bit Mr Ellam's leg."
The court heard Mr Ellam's "cries for help were becoming more desperate and people could see there was a lot of blood around".
"Alex was growling and snarling and Mr Ellam was heard to say he couldn't take much more," Mr Walters said.
A police officer managed to get the dog to release Mr Ellam by spraying a fire extinguisher at its face.
The court heard Mr Ellam died from multiple injuries in hospital.
The trial continues.