West Yorkshire Police see increase in suicide call-outs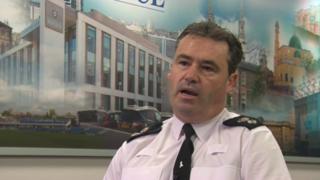 An increasing number of people threatening to seriously harm themselves or take their own lives is putting "strain" on police resources, a force has said.
In the three years up to 2017 there was a 39% increase in reports to West Yorkshire Police where the word suicide was used, figures seen by the BBC show.
Ch Supt Paul Money said dealing with them was tying up his officers' time.
Mental health professionals now work in the control room advising officers.
West Yorkshire Police logged 19,519 calls containing the word suicide in 2016. In 2014 it received 11,859 calls and 15,045 in 2015.
'Increasing demand'
"I'm not convinced it's entirely a policing matter to deal with but it's certainly taking a lot of our time," Ch Supt Money said.
"There's no doubt about it, the demand is increasing and there's a strain on resources as well and to say anything other than that would not be an accurate reflection of what's going on."
---
'I feel guilty for wasting their time'
Gary Sheldon, who tried to take his own life several times, says he feels "guilty" for the help he was given by police.
"I'm sure people are being robbed and murdered that they could be helping. I cried because I felt so guilty for wasting their time but on reflection they've saved me," he said.
"I'm lucky to be alive and very thankful for the help and understanding. I still feel guilty for wasting their time but I'm very appreciative of what they've done for me."
---
Ch Supt Money said: "In a place like Leeds, we have around five to 10 significant calls every day where an individual is either deliberately or inadvertently putting themselves at serious risk of injury or even death.
"We're becoming more aware, and our intelligence capability and partnership with colleagues and mental health professionals, is much more effective than ever before."
Senior mental health clinician Wayne Adam, from the crisis team, said assessing suicide risk in person or on the phone freed up police officers' time.
"Something that's previously taken up to seven hours to deal with can be done in half an hour or even less on the phone," Mr Adam said.
Mr Sheldon pleaded with people to accept help when it was offered "in whatever shape or form".
"Even if you think you're indestructible, nobody is," he said.
---
Advice and support
If you or someone you know are feeling emotionally distressed, these organisations offer advice and support: