Historic West Yorkshire lordships titles go on sale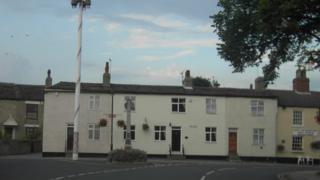 Three West Yorkshire Lordships of the Manor, including one said to be the oldest in England, are being sold.
Prices for the Lordships of Todmorden, Thorner and Barwick-in-Elmet range from £7,500 to £18,500.
Robert Smith, who is organising the sale, said the titles confer no privileges apart from the "golden glow of calling yourself lord of the manor".
Mr Smith, who runs the Manorial Society of Great Britain, said there was always overseas interest in buying titles.
More on this and other West Yorkshire stories
"We've sold at least six or seven or to Chinese individuals over the last few years," he said.
Mr Smith said that some purchasers "actually take the work quite seriously".
"Most famously there there were a couple of Americans who bought Kettleburgh in Suffolk a few years ago," he said.
"There was a church there whose bells fell down in 1939 and they paid for them to be repaired. They spent £250,000 on them."
The most expensive Yorkshire manor is the Barwick-in-Elmet lordship which is on offer for £18,500.
Mr Smith said it was the "oldest title in the kingdom" dating back to the 7th Century. It was previously owned by the Gascoigne family, who sold it off in 1965.
The title comes with series of legal documents, including writs, dating from the reign of King George IV complete with royal seals.