Church faces £1.5m bill after repeated thefts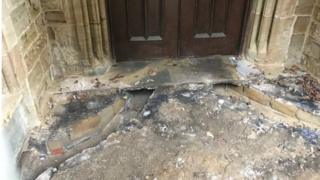 Repeated vandalism and thefts have left an Anglican church facing a repair bill of £1.5m.
St John the Evangelist, in Oulton, Leeds, West Yorkshire, had lead stripped from its roof in 2014, resulting in major flooding.
Despite efforts to protect the Grade II listed building vandals have struck repeatedly since then, the vicar said.
Recently flag stones and a lightning conductor were taken, leaving parishioners "heartbroken".
The Rev Sarah Hancox said: "I had been here about eight weeks when we had all the lead stolen off our roof, the whole length, it left huge holes so the water just poured in."
A Heritage Lottery grant and local fundraising enabled them to begin repairs but further thefts are discouraging, she said.
"We have been the victim of several thefts and vandalism and three lots of fly-tipping, including one of asbestos, and also theft of the lightning conductor and lately the theft of the stone floor.
"It's so frustrating to be targeted again. We hope the community come together like they did when the lead on the roof was stolen."
Rev Hancox believes the total bill to fully restore and reopen the church will be about £1.5m.
"We do need a lot of money but I think we can see it happening, with grants and the community working together."
Parishioner David Cove said there was a great deal of support in the area for the restoration.
"We are raising money, really quite surprisingly, from people who are not really to do with the church but who nevertheless treasure it.
"It is essential that it is repaired," he said.
Elizabeth Tonks, church warden, said the spate of thefts was shocking.
"It is heartbreaking," she said.
"We do not want it to close but there is such a lot of work to do."