Leeds businesses call for action to prevent more ram-raids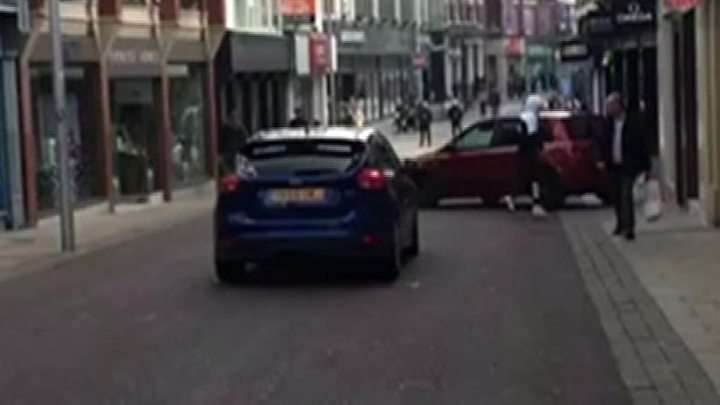 Urgent action must be taken by Leeds council to stop ram-raiders targeting city shops, businesses have said.
There have been five such attacks on premises in the city centre over the last 10 months, with the latest at the Rolex watch shop on Sunday.
Its manager Andrew Duffy said it was paramount the council acted because someone could have been killed.
The council said barriers were up to stop large vehicles and it was looking at measures to restrict smaller ones.
Read more stories from across Yorkshire
The Rolex shop was targeted just before noon when a Fiat Stilo and Ford Focus drove on to Commercial Street - a pedestrianised strip in one of the main shopping areas.
One of the vehicles tried to reverse into the front and when that failed men wearing balaclavas attempted to break-in.
The vehicles were driven off and recovered the next day in Hunslet.
Describing the attack as "very frightening", Mr Duffy, who was in the store at the time, called for an urgent review of safety measures, such as the introduction of smaller bollards.
"It has to be worked on right now... Someone could have been killed in those cars going away.
"I know how the council works, how funding works, but they're not the ones behind that door when this happens.
"If they were, trust me, they would have a very different view of it."
David Hart, manager at Flannels, said nothing had been done to address concerns after his store was ram-raided in December.
"You'd expect more from them [the council] given the amount we pay in rates," he said
Leeds City Council said it was "reviewing with partners what steps could potentially be taken to restrict further the access of smaller vehicles in certain areas of the city centre where appropriate."