Plea to find 'late Nan's armchair given to charity'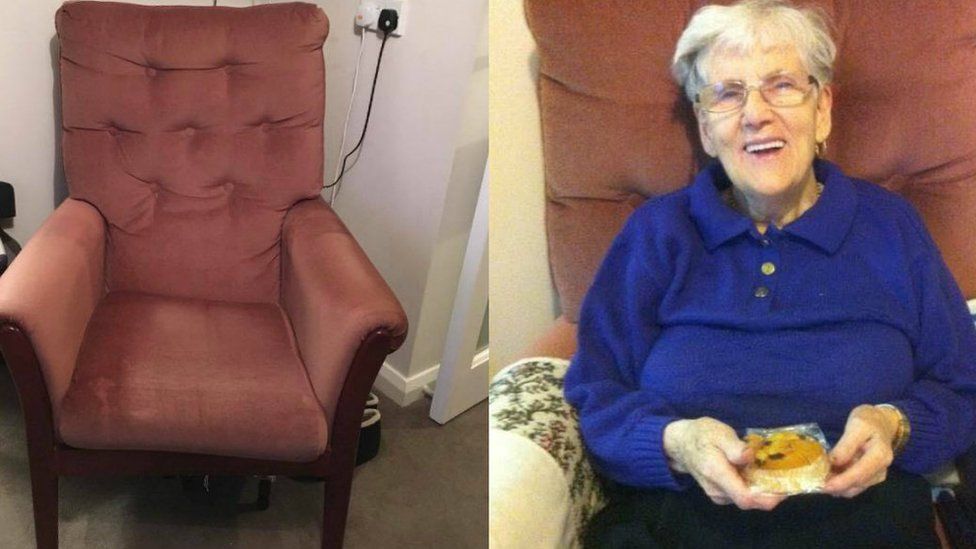 A woman says she has been left "devastated" after an armchair which belonged to her late grandmother was accidentally given away to charity.
Hayley Jeffcoate, 33, said she wanted to restore the dusky pink chair and keep it herself to remember grandmother Alice, who died last month aged 91.
Items belonging to Mrs Jeffcoate, from Morley, Leeds, were given to charity and the chair was accidentally taken.
Miss Jeffcoate appealed on social media for help to reunite her with the chair.
Miss Jeffcoate, who lives in London, said that by the time she realised the misunderstanding, the chair, which was taken to the British Heart Foundation shop in Wakefield, had been sold.
She said the charity did not have details of the buyer because they bought it from the shop, rather than had it delivered.
"To say I am devastated is an understatement and I cannot get it out of my mind," Miss Jeffcoate said.
"I do not want or need for any money or jewellery - the only thing I wished for was her pink fireside armchair so that I could have it in my home forever."
She said her "Nan was so funny", adding she "could leave you in stitches with her one-liners".
"She was a straight shooter, never minced her words but she had the warmest of hearts," she said.
Miss Jeffcoate said the charity had been extremely helpful and put a poster up in the branch for her.
She said she hoped someone on Facebook would see her appeal and allow her to buy back the chair.
Related Internet Links
The BBC is not responsible for the content of external sites.