Leeds University 'chav party' hockey club punished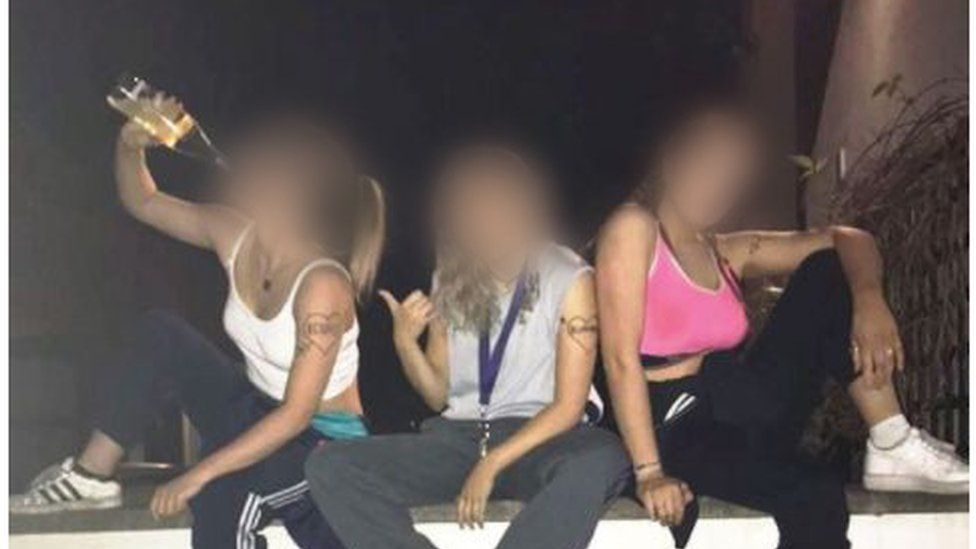 A university hockey club which threw a "chav party" has been banned from taking part in competitions.
Members of the Leeds University women's hockey club were invited to "dress lower class" for the night out in January.
They faced a barrage of criticism after photos of them posing in tracksuits, sporting fake tattoos and drinking bottles of Lambrini emerged.
Student union bosses have also stripped the captain of her role.
Members have also been banned from competing in this year's Christie Cup - a prestigious contest between three northern universities.
The post also included a dictionary definition of "chav" as "a young, lower-class person typified by brash and loutish behaviour".
At a disciplinary hearing, the union's activities committee imposed sanctions on the club, including:
A ban from alumni sports day
A ban from taking part in the Christie Cup, an annual sports competition between Leeds, Liverpool and Manchester universities
Club members are are also banned from travelling to the Christie as supporters
All the club's public social media activity will be stopped, and the union's sports rep will oversee all closed social media groups for the rest of the academic year
Social secretaries will be removed from their positions
A new captain should be re-elected at an Extraordinary General Meeting as soon as possible
The club has the right to appeal the union's decision
The club, which has yet to comment, has asked for discrimination training for all members, plus extra training for social secretaries.
Related Internet Links
The BBC is not responsible for the content of external sites.