Patient says waking up on operating table 'scariest thing'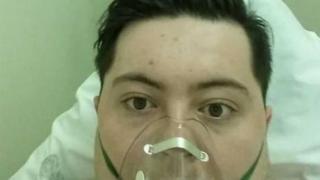 A patient who woke up on the operating table moments before his surgery began has said it was the "scariest thing I've ever been through".
Fenn Settle, 25, was about to undergo an appendectomy at Huddersfield Royal Infirmary when "heard beeping and people talking," he said.
It was then he realised he had come to in the operating theatre, sending him to a panic while he was unable to move.
The hospital has apologised and paid compensation.
'Body wouldn't react'
Mr Settle, of Baildon, West Yorkshire, said he first felt a "choking" sensation as a tube went in his throat.
"Once I realised I wasn't choking to death I calmed down a little bit", he told BBC Radio 5 Live.
"I tried to wiggle my fingers, tried to wiggle my toes, tried to blink, tried to open my eyes, scream and my body just wasn't reacting."
He eventually urinated on the operating table - alerting medics that something was not right.
Had he not done so, "it was going to hurt like hell", he said.
The medical team then put another needle into his arm and he "went back under".
Since the experience, Mr Settle said he had suffered panic attacks, disturbed sleeping patterns and had been prescribed anti-depressants.
But, he added, the NHS is "an absolutely fantastic resource and I think it is incredibly strained at the minute".
Calderdale and Huddersfield NHS Foundation Trust said it was "genuinely sorry that Mr Settle's experience was not to the standard which we would wish".
Chief nurse Brendan Brown said: "Whilst Mr Settle was fully anaesthetised during his procedure, we have completed a full investigation into the circumstances around his sedation and anaesthetic prior to his surgery starting".
Mr Brown said the trust had shared what it learned from the investigation and he would "again apologise" to Mr Settle.