Police officer filmed on mobile phone at traffic lights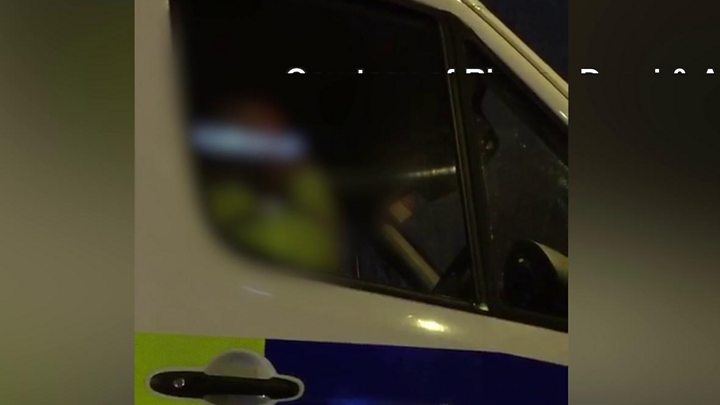 A police officer is under investigation after he was filmed using a mobile phone at traffic lights.
The video footage shows the officer in a stationary marked police van at a set of lights in Bradford city centre on Thursday.
Rizwan Desai was a passenger in another vehicle and said he thought it was "disgraceful". He filmed the officer and made a complaint to the police.
West Yorkshire Police said it had identified the individual involved.
Mr Desai and his cousin Abdul were in another car at the same lights when they noticed the officer on the phone and filmed him.
"I would describe this as disgraceful and horrendous as the police's job is to inform the public not to use mobile phones as they can put lives at danger," he said.
Mr Desai said he was particularly offended given the fixed penalty for using a mobile whilst driving had only been increased in 2017 and thought the officer's actions were "hypocritical".
"He was putting people's lives at risk on the public road," he added.
'Highest standards'
Supt Daniel Greenwood said a complaint had been received of an officer using a mobile phone and not wearing a seatbelt.
"The officer has been identified and the matter has been referred to West Yorkshire Police's professional standards department for further investigation," he said.
"An investigation is also ongoing in relation to possible road traffic offences and these will be dealt with as if they were committed by a member of the public.
"We demand the highest standards of our officers and staff and, where these standards are not upheld, we will investigate thoroughly and take appropriate action."
It is illegal to hold a phone while driving and the law still applies if you are stopped at traffic lights.