Leeds war hero's statue could be moved to heritage centre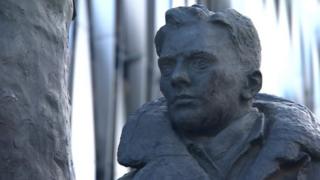 Plans are afoot to move a statue of a World War Two hero who died after guiding his plane to safety, despite being shot in the face.
Flt Sgt Arthur Aaron, from Leeds, was killed on a bombing mission in Italy.
The RAF pilot was posthumously awarded the Victoria Cross (VC) for gallantry after his death in 1943, aged 21.
Campaigners want to relocate his statue from a city centre roundabout to a heritage centre closer to his home in Oakwood, near Roundhay Park.
Dr Stewart Manning, of the Bring Him Home campaign, said: "His memorial needs to be somewhere local. He was born here, he was brought up here, he went to school here and it enables us to treat him with respect.
"At the moment he's in the middle of a roundabout in Leeds where people don't see him."
Dr Manning said he also wanted to create a memorial garden dedicated to the hero who showed a "real act of courage".
Flt Sgt Aaron was captain of a bomber that came under fire while approaching Turin.
A bullet broke his jaw and tore away part of his face.
He died five hours after bringing his plane safely in to land.
"Despite the fact he was badly injured, he flew his plane back, parts of his body were missing, he was given morphine and he landed the plane and saved the lives of three people," Dr Manning said.
His statue was erected on Eastgate after a public vote in 2000.
Leeds City Council said it was putting together a full report, which was due to be considered by councillors at a later date.
Who was Arthur Aaron?
Flt Sgt Arthur Louis Aaron was born on 5 March 1922 in Leeds and educated in the city.
He was captain and pilot of a Stirling bomber that was due to attack Turin, Italy, on 12 August 1943, his 20th operational flight.
The aircraft was hit and three engines damaged. The windscreen shattered, the front and rear turrets were put out of action and the plane became unstable and difficult to control.
As well as his facial injuries, Flt Sgt Aaron's right arm was rendered useless. His navigator was killed in the attack.
After treatment with morphine in the aircraft and despite his injuries, Flt Sgt Aaron summoned his failing strength to direct the bomb aimer in landing the plane in Algeria, but died a few hours later.
He was posthumously awarded the VC and the Distinguished Flying Medal.
His citation, in The London Gazette, read: "Had he been content, when grievously wounded, to lie still and conserve his failing strength, he would probably have recovered, but he saw it as his duty to exert himself to the utmost, if necessary with his last breath, to ensure that his aircraft and crew did not fall into enemy hands."
The inscription on his VC medal simply reads "For Valour".