Silsden gas leak leaves thousands of homes without supply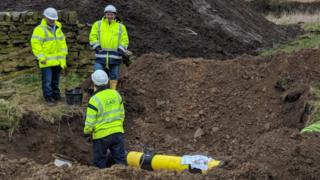 More than 2,000 homes in West Yorkshire have been left without gas after a leak.
Supplies have been lost in the Silsden area, near Bradford, after a gas main was damaged by a third-party contractor, Northern Gas Networks said.
The company said its engineers had been working to fix the problem since 09:30 BST when they were called to the site.
A spokeswoman said households "will be without gas for a number of days" and apologised to customers.
Extra staff have been drafted in from other companies to "resolve the situation as quickly as possible".
Ian Cooper, from the gas firm, said: "We estimate it will take a number of days to reinstate the gas supply.
"We'd like to apologise for the inconvenience caused and will be providing customers with regular updates on our progress."
"Our engineers are working late into the night to access properties and will be supported by additional resources from other companies in this process.
"Everyone will have an ID card and if you have any doubts about their identity you should call our customer care team on 0800 040 7766."
He said a customer support centre had been set up at St James' Church Hall and that hot food was also being arranged.