Books of remembrance slashed at Leeds crematorium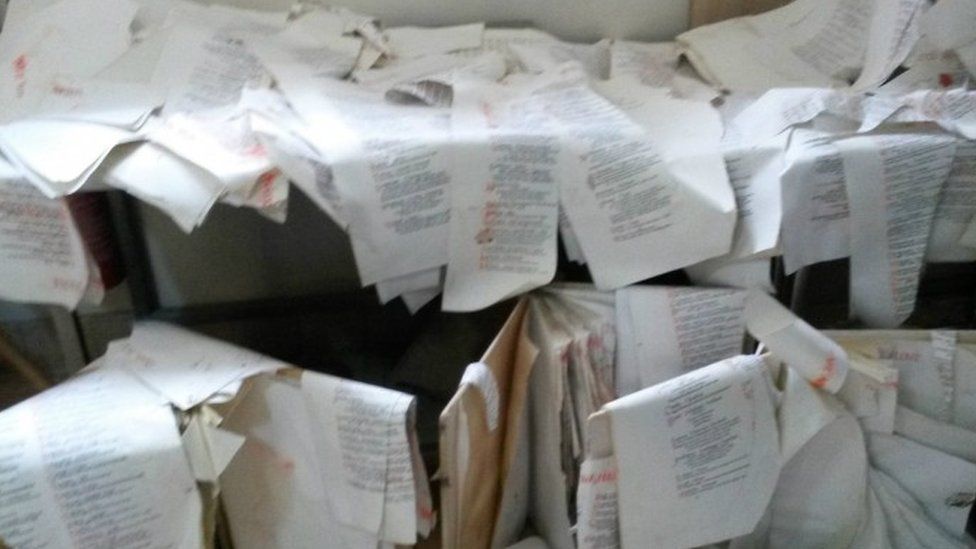 Vandals have broken into a crematorium and slashed "absolutely priceless" books of remembrance with a knife, scattering them outside.
Lawnswood Crematorium staff discovered the vandalism after the Easter weekend, said Leeds City Council.
The books, containing personal messages from bereaved families, could be irreparably damaged.
Chris Simpson, crematorium manager, said: "We understand that people's memories are held in these books."
Posting on Leedsface, a community Facebook group, Linda Fildes said: "I have family in those books. It's disgusting. Mindless idiots have no respect.
"What would they feel like if it was their family in those books?"
Janet Pickersgill posted: "My mum and dad are in those books. Absolutely mortified."
James Rogers, of the council, said: "These books are absolutely priceless, holding personal sentiments from many hundreds of families."
The "malicious" attack appeared to have been targeted as nothing else was damaged or stolen, he said.
The council was working with police, he added.
Some of the books had been thrown about outside the building and were severely damaged by water.
The records dating back "many decades" need to be restored, if possible, by a specialist before they can be displayed again.
Mr Simpson, who has some of his family records in the books, said: "I know many people will be as saddened by this vandalism as my colleagues and I are."
Related Internet Links
The BBC is not responsible for the content of external sites.