Lambs dying as North Yorkshire farm hit by wet weather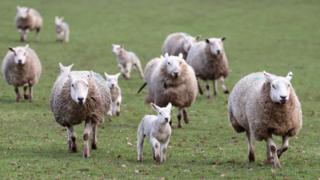 Lambs are dying and crops failing in waterlogged fields as farmers in North Yorkshire say they are facing the worst spring in decades.
The prolonged wet weather on top of a harsh winter has left swathes of farmland drenched.
It has led to livestock losses, dwindling feed supplies and crops submerged in water.
Farmer Jonathan Fairburn said six lambs had died this week on top of the dozens more he had lost over lambing season.
Read more stories from across Yorkshire
"They are wet, they're cold, they're sheltering behind bales but they get lost from their mothers and are starved. Once that happens it's a downward spiral," he said.
"I've been at this farm for 25 years and it's the worst spring we've had.
"The ground has never really dried and as soon as you get rain like we've had in March, it just puddles up."
Usually about 650 lambs are born each March and April to the 420 sheep on Mr Fairburn's farm in Helmsley.
This season he has lost about 40 lambs, which is more than usual.
'Not insured'
The Met Office said March's average total rainfall across Yorkshire (1981-2010) was 2.75in (69.9mm).
During March 2018 there was 4.25in (108.1mm) of rainfall, or more than half as much again as the average, it said.
Over the recent four-day Easter period. Fylingdales on the North York Moors experienced 2.46in (62.2mm) of rainfall.
James Copeland, regional environment advisor for the National Farmers' Union, said weather conditions had impacted all sectors of the industry.
He said winter crops were struggling while many spring crops had either not been sown or were struggling to germinate.
"Those crops are not insured so the farmers have to take the financial hit themselves.
"We're hoping the weather now continues to stay warm so crops can bounce back."