Heating system blamed for high fuel bills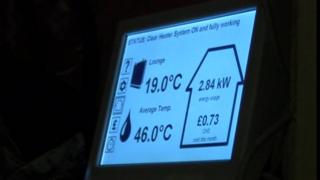 Residents on an estate in Leeds say they are struggling to pay their electricity bills since a new heating system was installed.
People living on the Elmetes Estate, in Roundhay, say they are facing fuel poverty, with some paying up to £260 a month to heat their homes.
They say a infra-red heating system installed in 2015 is to blame, but they say their complaints are being ignored.
Leeds and Yorkshire Housing Association said the issue was a "top priority".
More stories from across Yorkshire
Residents say the new electric heating system does not work properly and they can return home to find the heating has been on all day despite being switched off.
Rachael Mills said: "In the winter I'm basically paying rent twice over with the energy cost.
"I'm about £1,000 in debt - that's for this winter plus arrears from last winter that I've not been able to catch up with."
She said at one point she was billed £129 for 12 days electricity.
Ms Mills said she had tried raising the issue with the Leeds and Yorkshire Housing Association (LHYA) but they "just fob you off".
Mercedes Somers said: "When it was really cold it was costing me £10 a day and I just can't afford that much.
"It's depressing to live with a system that you know is going to cost so much money."
A spokesman for LYHA said the system had been installed in 2015 in the belief it would be more cost effective.
He said: "Regretfully, a number of customers are advising us that this has not been the case and we are currently exploring a number of short and longer-term options to deal conclusively with the matter."