Wakefield waterfront mills leisure plans passed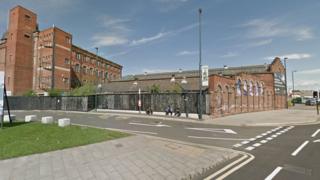 Plans to turn derelict mills on a West Yorkshire waterfront into a new leisure complex have been approved.
The site houses nine former industrial buildings on Wakefield's River Calder waterfront near the Hepworth gallery.
The applicant, City and Provincial Properties Ltd, has been given permission to regenerate the buildings that have been empty since 1999.
Shops, bars, restaurants and a creative arts space will be created on the site, the developers said.
The site includes the grade II-listed Rutland Mill complex, grade II-listed Phoenix Mill and the locally-listed Caddies Wainwright Mill.
Under the plans, three buildings would be demolished and a further six refurbished, Wakefield Council's planning committee heard, said the Local Democracy Reporting Service.
The planning inspector said harm caused to the site would be "less than substantial" and the benefits of the plan would "clearly outweigh" any harm.
Wakefield Civic Society had given its "wholehearted support for this proposal to breathe new life into a major site".
The proposals were passed on condition the applicants increase the number of disabled parking bays at the complex.
It is scheduled to be completed in three phases between 2019 and 2022.