Bradford 1997 rape: Schoolgirl's face 'wet with tears'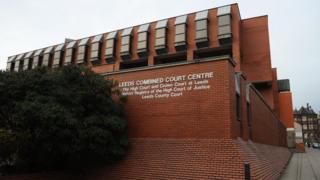 A schoolgirl who was raped in Bradford in 1997 ran to her best friend's house immediately afterwards, her face "wet with tears", a court has heard.
Anthony Mottram, 48, of Weeland Road, Sharlston Common, Wakefield, denies raping and indecently assaulting the then 16-year-old.
A statement was read to Leeds Crown Court from the girl's friend, who said she sobbed as she described the attack.
The court also heard evidence from some of Mr Mottram's former partners.
He is charged with six offences; rape, four counts of indecent assault and possessing an offensive weapon - all of which he denies.
More news from around Yorkshire
The court heard how the victim, who is now 37, was walking on an area of land called The Filler in Fairweather Green on 10 June 1997 when she was approached by a man armed with a craft knife.
She was assaulted on a woodland path and raped in a 20-minute attack, before she escaped and ran to her friend's house.
'Weird' penis
The friend said: "Her hair was a mess, her eyes were all red and her face was wet with tears. She kept on crying for about 10 minutes, then we hugged and she asked me to ring her boyfriend."
The friend then called her father and the victim's mother, who contacted police.
Mr Mottram was charged with rape after a stain on the victim's T-shirt was re-examined in 2016 using advances in forensic technology.
A DNA sample was taken from him in February 2017 and forensic experts concluded it was a match.
The court heard from Mr Mottram's ex-wife and several of his ex-partners, who were questioned on their sex lives with the defendant and the shape of his penis.
This was because the victim had described her attacker's penis as "weird and deformed".
The trial continues.