Royal wedding: Pampered Mirfield dog gets £5,000 kennel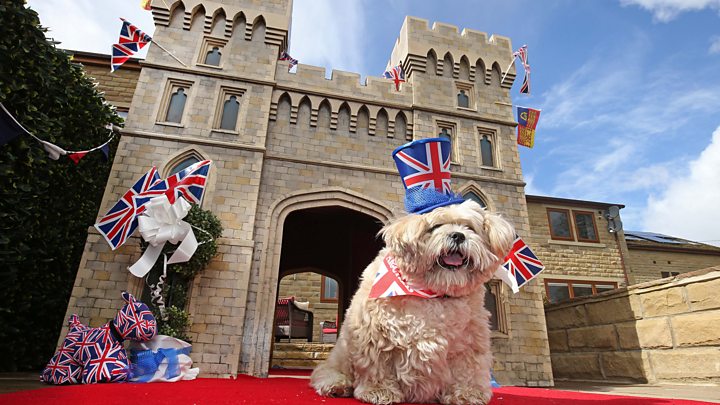 A £5,000 dog kennel based on Windsor Castle has been built by a lottery-winning owner for her pampered pooch to watch the royal wedding in style.
Susan Crossland, 53, has commissioned the 6.5ft (2m) high, hand-painted kennel made for Archie, her 10-year-old lhasa apso.
Mrs Crossland, from Mirfield, West Yorkshire, said: "I love royal weddings and I love the royals."
Along with her husband Michael, 49, she won £1.2 million in 2008.
Prince Harry and Meghan Markle are to wed on Saturday 19 May at St George's Chapel in Windsor.
The chapel - where Prince Harry was christened - holds about 800 people.
It took a seven-strong team about 240 hours to build the 6.5ft by 6.5ft kennel, which is based on the King George IV Gate at Windsor Castle.
Mrs Crossland said: "I just thought it might be a bit quirky to have something nice for Archie so I had him a Windsor Castle made and he absolutely loves it."
She is planning a barbecue for the royal wedding and said Archie would "just be pottering about in his new kennel", which is in the Crossland's back garden.
"He's my dog at the end of the day. Why not spoil your dog?"
You may also like:
Mrs Crossland said she had bought "lots of red, white and blue trimmings in recognition of the big day" and she loved to spoil Archie.
She won £1.2 million on the lottery on the anniversary of her father's death using his line of numbers and said the win was "heaven sent".
Russell Beck, the kennel's creator, said: "This was my very first request for a pooch palace."