West Yorkshire Police detective lied in rape inquiry, MP says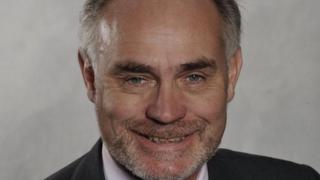 An MP has accused a detective of lying during a rape investigation.
Crispin Blunt, the MP for Reigate in Surrey, said his constituent Daniel Cresswell was wrongly jailed for rape in Leeds in 2014.
Mr Blunt also accused the West Yorkshire Police and Crime Commissioner and its Chief Constable Dee Collins of "obstructing" a review of the case
West Yorkshire Police said "no misconduct was identified" on the part of the detective.
The force and West Yorkshire Police and Crime Commissioner Mark Burns-Williamson also said they acted correctly.
Making a statement under Parliamentary privilege in Westminster Hall, Mr Blunt said Mr Cresswell, from Reigate, had been failed by the legal system, Home Office, Ministry of Justice and Prison Service.
He named Det Con Clare Barran, of West Yorkshire Police, who he accused of being "indolent in the extreme".
Mr Blunt said she had lied in documents and in her evidence to Leeds Crown Court.
Mr Blunt told the hall: "I am satisfied that there is a prima facie case not only that she [Det Con Barran] failed in her duty in the pursuit of truth and justice but that she lied both in the signed documentation that supported her investigation and in her testimony at the trial at Leeds Crown Court."
The MP also said that attempts to have the rape investigation reviewed had been unsuccessful.
He added: "All attempts to have West Yorkshire Police properly review the investigation were obstructed by that force, including by its Chief Constable Dee Collins and the subsequently elected police and crime commissioner, Mark Burns-Williamson."
Responding to the MP's claims, West Yorkshire Police Assistant Chief Constable Tim Kingsman, said: "This case has progressed through the criminal justice system as well as being referred to our Professional Standards Department."
He said the police judgement was appeal to the Independent Office for Police Conduct "who upheld the complaint in part".
"No misconduct was identified on the part of the officer [Det Con Barran]," he added.
ACC Kingsman said the force would "co-operate fully with any review commissioned by the government".
Mr Burns-Williamson said: "I totally reject the suggestion by Crispin Blunt MP that I have failed to hold the police to account or been obstructive in this matter.
"On the contrary, I have taken the issues raised by Mr Cresswell's family very seriously and ensured my office has undertaken a thorough and detailed review of the complaint processes followed.
"I have raised a number of questions on Mr Cresswell's behalf and scrutinised the way that the police complaints have been dealt with."
He said he "will be taking the matter up with the Justice Minister who responded following the comments".
The Police Federation which represents rank and file officers said: "Mr Blunt has questioned the integrity of the officer and besmeared her good character.
"What he has accused the officer of is most serious. If there is any evidence of wrong doing, Mr Blunt should make these accusations in a public forum, base them upon hard evidence and hand this evidence over to the IPOC immediately, rather than hide behind parliamentary privilege as he has done."