Ian Berry: Huddersfield artist creates works in denim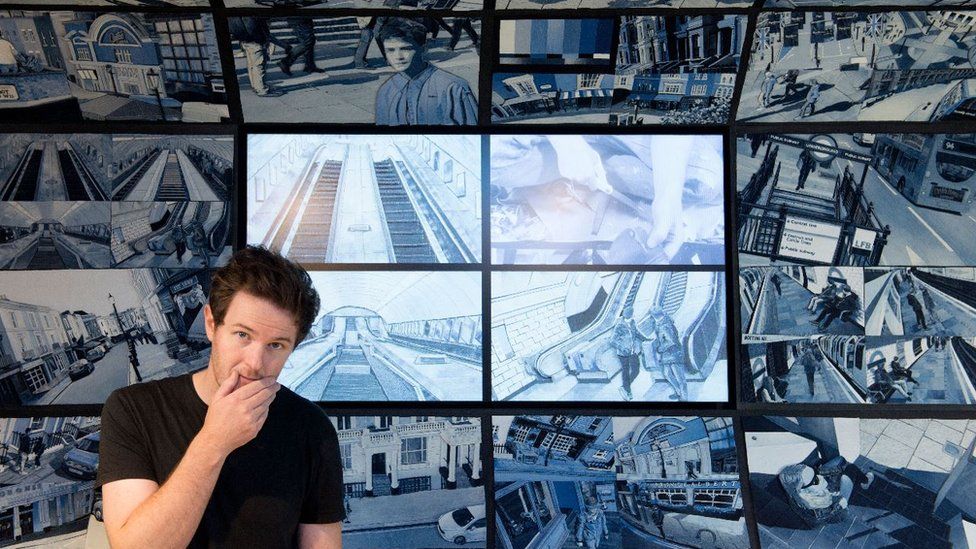 When Ian Berry cleared out the wardrobe at his mother's house he found a pile of old jeans that needed to be sorted.
Most people would take them to their nearest charity shop, but the 34-year-old from Huddersfield, formerly known as Denimu, shaped them into portraits.
His artworks may look like paintings from a distance, but they are made completely from denim.
Using different textures and washes, he creates light and shade from the hardwearing fabric.
Berry, who uses scissors and glue to piece together his artwork, said: "I take a photograph then try to replicate it in fabric.
"I can cut something out and it looks like a shiny window, like a reflection or something. If, say, around the pocket of the jeans there is a nice curve, that's where I'll cut."
"To me it is part of the challenge to make a matt surface look shiny."
Berry started off using jeans donated by family and friends but now has about 2,000 pairs to work with - many donated by denim brands.
His work looks at how people relate to one another, how our communities are changing, and how - and he pardons his own pun - there is a "fading fabric of the urban environment".
"Where I live now in London I know all the neighbours, but most people in London don't talk to each other.
"Pubs are closing down, they are the places where interaction used to happen.
"In the past we used to compare ourselves to people in the community; now we compare ourselves to people online, to celebrities."
Berry, who now has fans all over the world, said to get the most impact his work is best seen in real life.
"Even from about a metre away people think they look like paintings.
It's because of this that Berry wants to show his work in the north, bringing a touch of what he has shown in sell-out shows in London and Sweden and museums, galleries and art fairs in the United States.
"I'd love to exhibit in Huddersfield but I want it to be the right project. I want to reach people who wouldn't normally go to an art gallery, to make an impact."
Related Internet Links
The BBC is not responsible for the content of external sites.