Zbigniew Lasek jailed for wife's murder in Halifax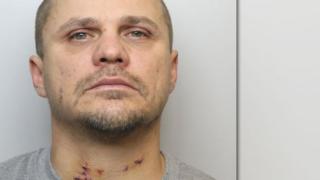 A man jailed for life for stabbing his wife to death "showed no mercy", a court heard.
Monika Lasek, 36, suffered "devastating wounds" at her home on Solstice Way, Halifax, on 26 November.
Her husband Zbigniew Lasek, 36, had denied murder but was convicted at Bradford Crown Court.
He was jailed for at least 24 years and told by the judge that the tears he shed while giving evidence were "for yourself".
Judge David Hatton QC said he was satisfied that the fatal attack was part of a history of violence and coercive behaviour on Lasek's part.
The court heard that the couple had three children, and Judge Hatton said they had been devastated by the loss of their mother.
During the trial the jury heard how Mrs Lasek had wanted her husband to move out the house after their relationship broke down about six months before the murder.
'Showed no mercy'
During the trial the jury heard evidence about Lasek's threats towards his wife.
"This was a particularly brutal attack with a large and sharp knife," the judge told Lasek.
"It was used on several occasions to inflict a considerable number of injuries some of which were deep and devastating. You showed her no mercy."
Lasek, who claimed he "went mad" after his wife stabbed him in the thigh, broke down in tears after the jury's verdict, but Judge Hatton said he had seen no remorse from him.
"The tears that you purported to shed in evidence, if real, were very much for yourself," said the judge.
After the murder Lasek tried to make it look as if he had been injured in the incident. He also pretended to have tried to hang himself from a cable attached to the staircase.